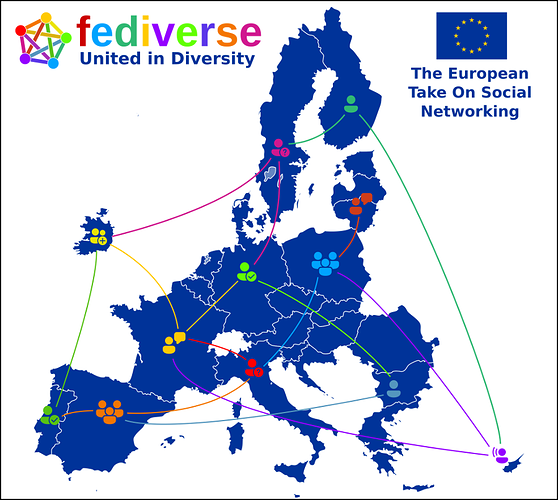 The EC Fediverse Pilot
The EU via their Horizons Europe program, the Next Generation Internet (where e.g. NLnet are associated) (NGI Initiative) are the biggest funders of the free software projects that comprise the fedi. Without their support fedi wouldn't be what it is now.
The European Data Protection Supervisor (EDPS) recently launched a pilot to have both a Peertube and Mastodon instance on the Fediverse, hashtagged #EUVideo and #EUVoice respectively. On these servers official European Commission related institutions as well as individuals working at the EC can have their accounts.
This recognition of the Fediverse and the interest that exists in entering our decentralized social networking environment is an important development. With success of the pilot there will undoubtedly be a follow-up and more initiatives to come. First results until now is that the parties that 'test the waters' are very happy on the kinds of interactions and quality of discussions they encounter on the Fediverse.
That is no wonder, of course. Fediverse offers social networking that is more personal and friendly, than corporate social media which is about 'broadcasting' and influencing.
Current pilot can be a ramp up to something much bigger:
Fediverse: United in Diversity
A social networking technology where everyone can find their place and participate, that is not controlled by Big Tech and commercial corporate interests. For the European Commission there is the opportunity to passionately put their support behind fostering "The European Take On Social Networking". Fediverse aligns to the NGI Initiative who envision an Internet for Humans.
How you can help
To progress towards this vision it is important for the EU/EC pilot to be a success. As fedizen you can help with this. Here are a couple of ways to offer your support:
---
This topic has been cross-posted to Lemmy in Fedivangelism community and others, and tooted to fedi here.