In many places on the web I have been explaining how I prefer to start modeling of any application by explicitly following Strategic DDD. (And note that if you don't do it explicitly, you always still do it for any software you create, but then implicitly).
Here is an example DDD model showing how two Bounded Contexts relate: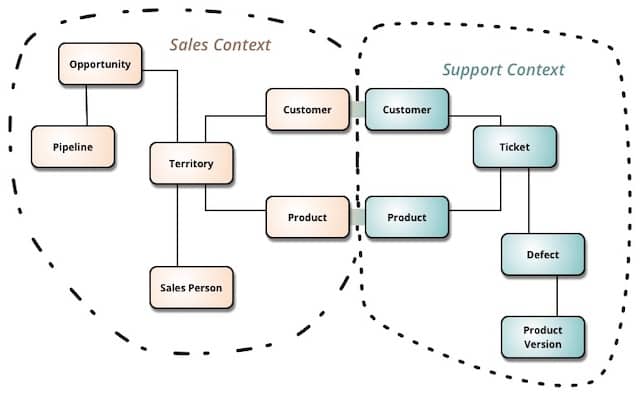 The Fediverse has enormous potential to support social networking for a huge amount of use cases, where different distrubuted services seamlessly integrate in the delivery of functionality / capabilities. Ideally the Fediverse would be like a task-based service-oriented architecture, where one can combine numerous building blocks to model tasks in support of real-world activity.
A fedi with this level of socio-technical support I call a Peopleverse, which is a (technological) vision to work towards (see also: Let's Reimagine Social).
However, this vision is only within reach if Fediverse manages to reach much deeper levels of interoperability in its protocol-level communication. This requires careful standardization of the domains that enable different use cases. And the trend is that this isn't happening at all (see: Major challenges of the Fediverse).
This topic is dedicated to how DDD relates to extensibility mechanisms of the ActivityPub linked data format.